A few years ago I had the wonderful opportunity of helping with a going away party -of sorts- for the Fablehaven series. An exciting part of the evening was an auction hosted by the fairies. Their hope was to raise enough money to tempt Brandon to continue the series with a large advance. One of the many items in the auction was a rare jar of dragon eggs. I think you'll find them surprisingly simple to come-by.
The dragon eggs came about after a disastrous de-panning of red velvet cupcakes. I was trying out a new recipe and didn't have jumbo cupcake liners on hand. You'll come to learn I lack patience in these situations and carried on without the liners. There's not a lot of suspense about what happened next.
Delicious…amazing… red velvet crumbs! And there's only one thing to do with cake crumbs… cake balls! All those times I wept over cake layers that didn't release nicely from their pan!! Baking was truly savage before the invention of cake balls.

Add a most delicious frosting. I used a cream cheese frosting I thinned down a bit for extra gooey-ness.
I can, with confidence, advise you to begin with only a portion of crumbs and frosting so you can add more of either to obtain your desired texture. In my case I was looking for something that could be formed into a convincing dragon egg.
Hold that thought…we still need a shell.
After a little time in the freezer these little guys were dipped in tinted white chocolate and smathered with gold gel.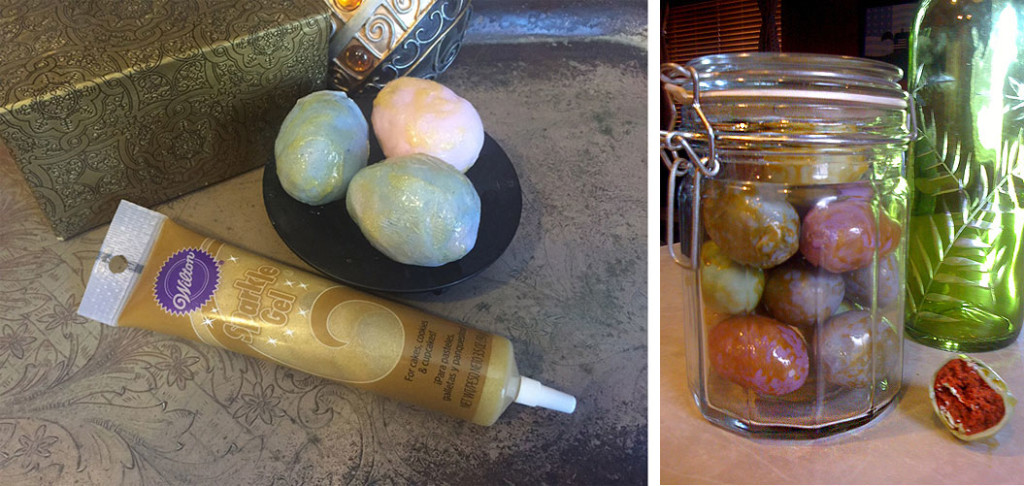 The gold gel is a matter for further conversation. Your local grocer is likely to carry Wilton's Sparkle Gel, which will get you by in a pinch. As you see on the left. I was far more pleased with the Gold Glaze from my local specialty store. As seen on the right. You can order online at Gygi.com.